As we move into summer and start to enjoy some warmer weather over the holiday season, there's one date that not-for-profits and their employees should keep in mind: 31 March.
This date is important, as it is the final day of the Fringe Benefits Tax (FBT) year. Employees must salary package any meal entertainment (dining), holiday accommodation, and/or venue hire costs by 31 March, before the $2,650 tax-free limit for these benefits resets on 1 April.
This means that any funds which have been accumulated on meal entertainment cards should be spent by 31 March. Similarly, employees should submit any expense claims for reimbursement well before this date.
So, how do you make sure the $2,650 is maximised? Find out more below.
1. Know where you're sitting.
With the holiday season approaching, it's a good time to assess where you're sitting in terms of your fringe benefits allowances. How much is currently on your meal entertainment card? Do you have a large balance you need to use up? And if you submit invoices for reimbursement instead of using a card, have you checked how much you have left to claim? It's important to know where you're at with your meal entertainment card and receipts in order to make the most of the benefits. Our advice would be don't leave it too late and run out of pay cycles to claim it!
Thankfully, GO Salary's online portal makes it easy to understand where you're at with your meal entertainment card and reimbursements, so that our members are always informed.
2. Consider increasing your meal entertainment card payments.
If you know you're going to be doing a lot of dining over the summer, consider increasing the payments to your card. That way, you will reach the limit earlier than late March, giving you more time to spend the money over the holiday season. This is a popular option when people are heading away on holiday – loading the card at a higher per-pay amount is a nice way of saving for all the holidaying you'll be doing!
3. How about a city break?
Following a restricted couple of years due to the global pandemic, Australia's city centres are bouncing back! With a range of great accommodation options for all ages, and a variety of festive-themed events, it's a perfect time of year to spend a night in a city hotel. You can salary package the cost of the accommodation as part of the $2,650 limit, along with any dine-in meals you might have. 
4. We're not forgetting the regions!
As with the cities, regional areas across the country have been reminding everyone what they have to offer! Whether you're after coastal swims or mountain hikes, getting out of the cities and the 'burbs can be the ideal way to recharge the batteries. Renting a cabin at a caravan park is a popular option for many families, especially considering the parks are located in prime areas for exploring. The cost of the cabin can be salary packaged as part of the $2,650.
5. Grab a midweek dinner at your favourite local restaurant.
At this time of year, the weekends can be very hectic. There are end-of-year parties, sporting events, and lots of shopping and preparation to do. So, grabbing a midweek meal is a nice way to ease the load, whilst also supporting a local restaurant. Plenty of venues also offer midweek dining specials, even at this busy time of year, which is an added bonus! And it's not all about dinner – catching up with family or friends for a quick midweek lunch is something which breaks up a hectic work week.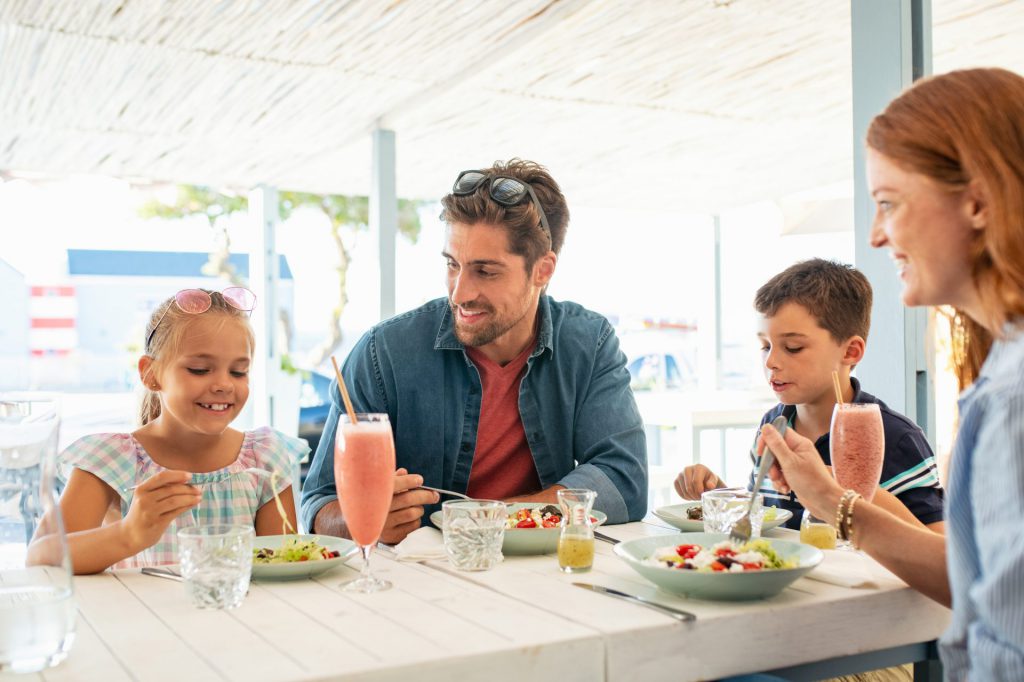 6. Remember that you don't need to salary package $2,650.
Keep in mind that $2,650 is the maximum you can salary package. Yes, for a lot of people, this will deliver the most tax benefit. However, you don't need to salary package this much. If you're not getting through the meal entertainment card money, consider reducing the payments to the card. You can always increase them again if and when you start to do more dining and take more trips away. Meal entertainment and holiday accommodation benefits are available, but they're not mandatory. GO Salary can assist if you have questions about how these benefits can work with your lifestyle.
Not currently offering meal entertainment and holiday accommodation benefits to your employees? It's easier than you think! Get in touch with us to discuss the different options.
And if you have any other questions about salary packaging, we're always here to help.